1. Is school back in session where you live? Is everyone in person or does your system still offer a virtual option? Are kids wearing masks? 
Yes, the kids began on the 11th so it's been a little bit now. Last year they had an online portion for kids who wanted to stay home but it is not around now; just the normal Florida Virtual School, which has been around forever. My kids went the entirety of last year and are in-person now. Our mask situation, I detailed yesterday if you want to go back a post. I am not happy about what they changed, a week into school. Let's leave it at that. But except to throw in that our "administration" are not using science or data or their brains. But do we expect them to? Not typically!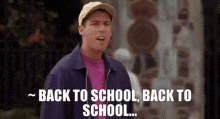 2. Something you still do 'old school'?
LOL isn't that what blogging is? The young kids don't know what a blog is. They do snapchat, IG, tik tok. Those are their ways of expressing themselves, whereas us old folks like to fully flesh out our ideas in written words.
3. One lesson you've learned in the 'school of life'?
You will struggle and often find yourself overwhelmed but if you use critical thinking and surround yourself with supportive people, you will succeed.
4. When you were in school did you pack a lunch or buy a lunch? Your favorite thing to see on the lunch menu or inside your lunchbox back in the day?
I probably did a mix of both, much like my kids do. They wake up, shower, then come downstairs and ask me to look at the breakfast and lunch. Our district keeps getting grants for free lunch – even for us in the "well off schools" – so I don't mind. I paid for lunches for both boys for a while there. But they determine if the food is worth it then make that choice. I always liked burgers or Mexican pizza when I was a kid. I don't much remember eating anything else in the cafeteria but I do remember my mom packing me turkey and cheese sandwiches all the time. And she always wrote me a nice note on my napkin!
5. August is National Family Fun Month. Tell me something fun you've done this month.
Hmm, well, Ash and I went to Jacksonville with my sister and her boyfriend. (My immediate thought for "family fun" meant us and the kids but it doesn't have to be!) We went to some cool places but in retrospect, it wasn't as enjoyable as it could have been for me since I still felt bad after my what-I-thought-was sinus infection which may have been covid, and I couldn't taste or smell the food and beer we had. We'll be having a belated birthday party for Dakota this weekend so that's also fun.
6. Insert your own random thought here.
That full moon must have been something because my kids had serious holdover from it. Now, I'm not some hippie who goes around believing in the pull of the tides and crystals and stuff but in my experience, people really are somehow affected by the moon. My children seem to be in exceptionally odd moods this week, from Dakota having this weird neck pain that made her simply weak, emotionally, to Elliot losing his ever-loving mind over not playing video games during the week, to Isaac, who is the worst. He's just in some kind of state where he cannot keep his cool.
I hope that when everyone gets home today they're feeling a bit more even-keeled because it really does feel stressful when they're all losing their minds.