Oof, not in the best mood today but I'm sure it will turn around. My husband and I had a disagreement and though I'm well aware that married couples do that from time to time, I hate it. I don't want to placate him all the time but I do need to learn when to pick my battles. I literally fought him over a specific date something happened, which is a total waste of time. I don't know why I felt it was important but so be it.
He's over it so I need to get there too. It's been a weird couple weeks, with him going back to work and the kids' new training schedules. Maybe we are both stressed. There's always some new thing to think about. I am still not the best at the long term view of things; I get stressed right now about the future instead of calmly thinking of solutions. I will say I have improved slightly over the years on that front but I have work to do for sure.
That said, I managed to get myself going and I did a bit of work, showered, and then I went up to Beall's for some shirts for the kids. They didn't have their colors in their sizes but I did finally find a good rug for my downstairs bathroom. It has a beach theme and I have been searching everywhere for a low profile mat for in front of the sink and the toilet. I am kind of picky too so it has been a long search. I'm pretty pumped about it, not only because it fits the theme but it was 8 bucks, 20 percent off AND I had a 5 dollar birthday coupon. So, score!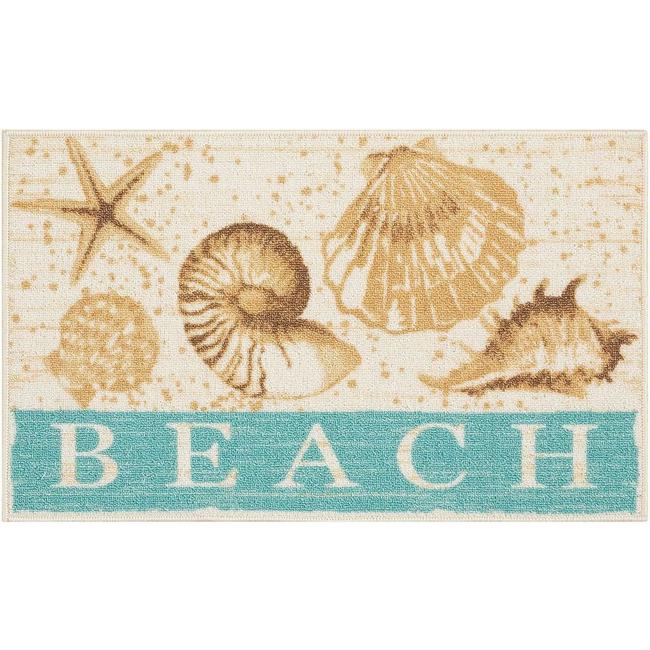 I'm about to teach my class and then figure out the rest of my day. I have a 15 min check-in with someone from one of my schools at 1:30 so I am lunch-limited today. I don't mind, really, but there's a slight chance my husband asks if I want to go with. We shall see. Otherwise, I am just so hungry so any old thing will do. I should get more organized and cook here; think ahead. Maybe make rice and do Mexican bowls like I always used to do. Maybe next week.
So, my birthday is Saturday. We aren't really doing anything. Friday we're going out with an old friend of ours and his wife and that will kind of be a birthday thing. I haven't been to the restaurant so that will be cool. Then on Saturday, Dakota has practice and then in the afternoon, we are going to a friend's for his 50th birthday. It's just a driveway get-together but I mean, turning 50 is a lot bigger than turning regular old 42 like me. In some ways, I don't mind his birthday overshadowing mine. I know this sounds petty but if we do all that for our friend, then I have a reason to say no to something we were invited to that evening (UFC fight watching at neighbor's house.) My trump card is that it is my birthday and I do not want to go.
I sort of feel like I am becoming less sociable the more time I work from home. I always said I didn't need people but maybe the fact that I was forced to speak to others via an office job was good for me. I don't know but I dread the idea of working in that kind of environment again so I highly doubt I'd ever pursue it anyway.