Ok technically, Isaac's birthday is next weekend but we're partying this one. So, without further ado: my list.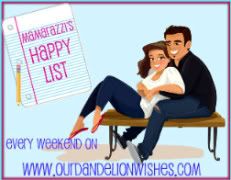 I got five dollar coupons for formula in the mail; woot!
I finished the J.R. Ward book and even though I cried, it was really good and made me happy.
Ell's school is having a clothing swap wherein you get one ticket for another item for every item you donate. You know those BIG bags you get around Christmas time from department stores?  I have one FULL of stuff. Oh yeah!
Bones was OK last night but what is awesome is six more uninterrupted weeks of episodes.
Joe Nichols'  Tequila Makes Her Clothes Fall Off. I don't know why but this song makes me laugh.
My house is clean; 'nuff said.
Stitches are out!
My family is here and we're gonna party like it's… well, 2011. Ha ha ha.
Hope you guys can compile your owns lists o' happy. It's worth it.